Italian sustainability Leader
2023, 2022, 2021
Epta is amongst the "Sustainability Leaders" nominated for the 2023, 2022 and 2021 editions held by Il Sole 24 Ore and analytical firm Statista, to reward Italian companies that stand out for a development strategy founded on respect for the environment and awareness of the social dimension.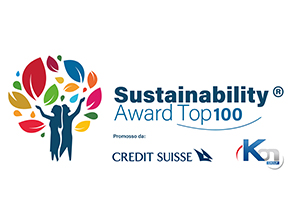 Epta is one of the 100 most sustainable companies in Italy; it was awarded the prize, sponsored by Credit Suisse and Kon Group, which was created to support and showcase Italian firms that are committed to the planet.
European climate Leader
2021
Epta is in the Top Ten of Italian businesses singled out by the Financial Times and Statista analysis in the 2021 study of European Climate Leaders. The league table of Europe's Climate Leaders was created to showcase the European businesses making the greatest progress in reducing greenhouse gas emissions between 2014 and 2019, taking revenue into account.
Epta's FTE System was presented the prize awarded by Perifem, the French association for technical retail manufacturers, in the Energy/Environment (Energie/Environnement) category.
Premio per lo sviluppo sostenibile
2018
Epta's FTE System received an award for Green Economy achievements in Italian business.
German refrigeration Award
2018
Epta's FTE System won first prize in the "Refrigeration & Air Conditioning Innovation" category. The prize, which was awarded by Svenja Schulze (Federal Minister for the Environment, Natural Protection and Nuclear Safety), aims to foster development of innovative and energetically efficient technologies in the HVACR field.
Rac Cooling industry Awards
2017, 2016, 2014, 2009, 2007, 2006
Flagship prize for the refrigeration and air-conditioning industry.
Best Practices Award for Renewable Energy and Sustainable Mobility presented to the Epta Group for the green solutions conceived for stores.
Epta received an award in the "Design" category for the environmental sustainability of its manufacturing site in Limana (province of Belluno).
Regional authority for agriculture and forestry services
Municipality of Rozzano, 2011
Project for cutting direct and indirect CO2 emissions, created by the Epta Group for Euroshop 2011.